Check Out Some of Our Favorites!
FROM SALES PENDING TO GRAND OPENINGS, SDSIGN OFFERS A WIDESELECTION
OF CUSTOMIZABLE PRODUCTS TO BEST MEET YOUR NEEDS. HERE IS A LIST OF THE
MAIN PRODUCTS WE OFFER, BUT ALWAYS FEEL FREE TO REACH OUT WITH A
PARTICULAR PROJECT IN MIND!
Hardbacked and Handheld
Yard Signs

Sturdy and rigid, these exterior and interrior rigid signs make for great street and window displays Let everyone know about your streetside garage sale or celebrate a graduation and accomplishment. You let us know what you want on them, and we'll send you a proof of your customized work! If you've got the talent and patience, we can even cut these products into unique shapes!
Giant Checks

A wonderful choice for donations, fundraising, and awards, our big checks are sure to catch attention. Choose from our selection of different styles and materials to create the perfect giant award check for whatever your occasion requires.

Giant Checks

Goal Charts

Looking for a fun way to track progress on a project, or maybe need something to show everyone how much as been donated to a particular fund? We've got the perfect tool for you to see how far you've come on a particular need. Choose from our various goal thermometers and goal charts to watch your progress rise.

Goal Charts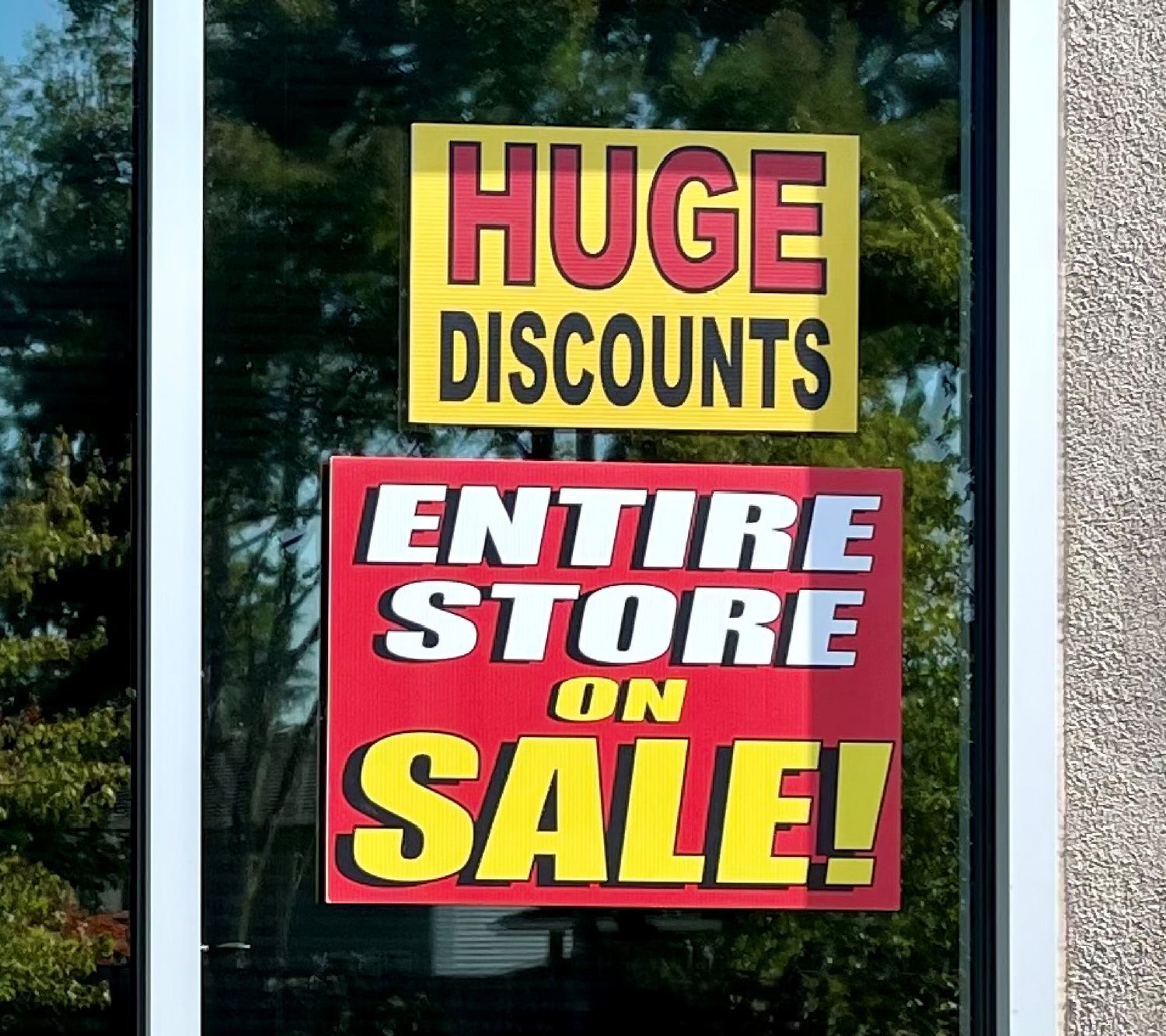 Sale and Liquidation
Counting the days before a big event, need to show what products are on sale, or need to get the word out for huge savings? Our selection of popular sales signs clearly promote your business and guide your customers in what you're offering, whether it's for a temporary big sale or your business' last days.
Sale and Liquidation
Race and Directional Event Signs
Want to stay ahead of the game? Pick from our selection of economic race packages and event directional signs for your next marathon,
cross-country jog, or other fun outdoor event!

Race and Directional Event Signs